Car Rental Northern Mariana Islands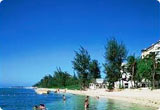 Northern Mariana Islands is a common wealth in political union with the United States. Northern Mariana Islands has numerous WW2 bunkers which fall into the National Park Service as War in the Pacific parks. There are memorials established on the northern end of Saipan to the Japanese soldiers and civilians. The Marianas' best activity among Americans is snorkeling and scuba diving. Surrounded by beautiful coral reefs, this island also has huge historical background as it witnessed many hard days of WWII.

Many Asian visitors arrive to the Northern Mariana Islands for gambling, hostess/karaoke bars. Tinian, predominately, has got away major development and its beautiful beaches and pleasing hikes are a major attraction among tourists. A rental car in this island lets you cover the whole place on your own, as you drive from one beach to another from your hotel. Get best deals at most economical prices online, for your rental, with us!