Book a cheap car rental for Russia on VIPCars
Rent a car in Russia with VIPCars and save big on your next vacation to the largest country in the world by size, which also happens to be a major economic, political and military power in the world. And not just that, comprising of the entire north Asia along with a part of northeastern Europe, Russia is also known for its folk culture, architecture, cuisine and historical landmarks. With so much to see and do, a rental car comes across as the best way to experience freedom while on a vacation.
Just fill the search form given above with your travel details and click on the search button. Compare the deals that populate the screen using various filters – use price sliders to set the price you are comfortable with, use the supplier filter and so on. Though through these filters you can easily narrow down the search, you can further compare on the basis of inclusions and choose the deal. Rent in advance today for bigger saving.
Car rental pickup advice
For a successful pickup make sure that you have a valid & full driver's license (DL), a credit card and the car rental voucher. In case there are additional drivers, they also need to present their DLs and credit cards, only then they will be allowed to drive the rental car.

Reach the rental pickup location on time, or inform the supplier about the delay or there might be late fee charges. And if you are arriving at an airport, make sure that you are providing the flight number at the time of the booking so that the agency can track down and reschedule your pickup time in case of delay.

You will also need your passport for the pickup at the airport and a return ticket; the latter is only needed if your car rental agency is allowing you to pay through a debit card. However, in the majority of cases, the car rent agencies also for a credit card as the mode of payment.
Our rent-a-car partner companies in Russia
In Russia, we work with some of the finest global brands in the car rental industry. Because of the presence of so many rent-a-car companies in Russia, on our booking engine we are able to cover a lot of locations in the country where you can request a pick up. And not just that, the same reason allows us to offer almost all car categories at a range of prices on our engine that you can compare at one place. With us, you can book all from an economy to compacts, SUVs, minis, mini-vans, 4x4s and convertibles. So no matter whether you want a car for your business trip or vacation, you will most likely be able to find the car that you are looking for.
The following are the car hire agencies we work with in Russia:
Urentcar
Sixt
Dollar Thrifty
Europcar
Avis
One-way car hire & Popular return locations in Russia
The following are the rent car locations in Russia covered by our suppliers where you can request a pick up as well as drop-off as per your convenience. However, note that in case your pickup and return locations are not the same, the rental will be treated as one-way and you will be paying a small per day fee for the service.
Note: This is not the complete list of the locations we cover in Russia, type in the name of the location you are looking for in the search form or call us for assistance.
Vityazevo Airport
Kazan Airport
Domodedovo Airport
Kurskiy Train station
Moscow Downtown
Sheremetyevo Airport
Pulkovo Airport
St Petersburg Downtown
Cross-Border & International one-way option
---
One-way is not allowed outside Russia, however, cross-border to European countries is possible but only if the supplier provides the renter with written permission. Another thing to note here is that the insurances offered with the rental car cease to work outside the country, so the renter will need to buy a green card. There may be per-day cross-border charges and you will need to return the car in Russia only as international one-way is not permitted.
Read the deal-specific T&Cs or call us for more information.
Most popular cities & airports in Russia
Moscow and St Petersburg are the most visited cities here and both contain beautiful churches, impressive fortresses and imperial palaces. Russia also has many sea and ski resorts that travelers can visit. Whether you wish to get a picture clicked at the Europan-Asian border, drive through Golden Ring to capture historical towns, witness the traditional wooden churches in Kizhi or experience an adventurous stay at Kamchatka's volcano sites, a car rental in Russia is a good idea.
The main airports used by travelers in Russia are the Domodedovo Int'l Airport, the Sheremetyevo Int'l Airport and the Pulkovo Airport.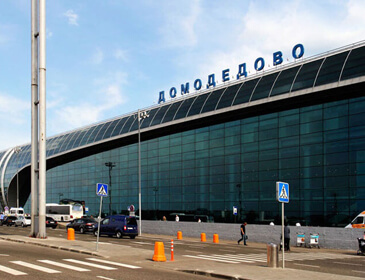 Moscow Domodedovo Airport (DME)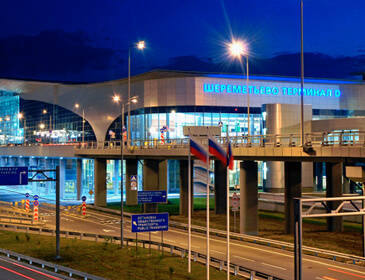 Sheremetyevo International Airport (SVO)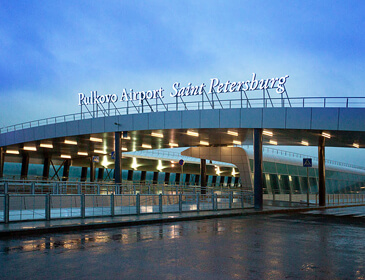 Pulkovo Airport
Tips for driving

in Russia
Right Hand Side

Cars are driven on the right-hand-side of the road in Russia

Follow Seat-belt Laws all the time

All passengers occupying the front as well as the rear seats need to wear seat belts while on the road.

Child Seat

Children under 12 sit in the rear and in proper restraint systems as per the age of the child (you can rent child or baby seats for a fee at the time of the booking).

Drink and Driving

Driving under the influence of alcohols and drugs is illegal and punishable under law in Russia; zero tolerance to alcohol is observed

Red light

Right turn at red light is forbidden

Using mobile

Using mobile while driving is illegal; you can use handsets to talk on the phone though.

Driving age

Minimum driving age is 17 years; keep your car hire agreement and other documents with you in the car while on the road

Headlights

Drivers need to use dipped headlights during the day time

Speed limits

Speed limits must be adhered at all times; though generally the speed limit in build-up areas is 37mph and 68 mph on expressways, look for sign boards and follow their instructions.

Overtake

Never overtake a tram that has stopped for the passengers
Frequently Asked Questions
How old do you have to be to rent a car in Russia?

Our partner car hire companies in Russia allow renters aged 21 and above to rent cars, and the others which allow under 21 year olds, they charge a young driver surcharge. All the ones that fall in the latter category are permitted to hire only those cars which fall in the non-luxury segment like compacts, economy and standard cars. The minimum rental age may vary with change in supplier, location as well as the car-type, so read the deal specific T&Cs for more information or call us for assistance.

Can I drive in Russia with US driver license?

Yes, international drivers can use their national driving licenses (DL) to drive their rental cars in Russia, but only if their stay is not more than six months. Also, the drivers should carry their driving licenses' official translation in case their DLs are not in English; or you can bring your international driving permit if you have it.

How much does it cost to rent a car in Russia?

The cost of the rental car depends on the type of car you are renting, the location and the supplier. However note that the economy, mini and compact cars are the cheapest to rent, and the vehicles that fall in the luxury segment are relatively pricey. It also depends on the age of the person – as inexperienced drivers pay a young driver fee – & things like, whether you are opting for services like one-way or not, as for these also drivers are charged a per day fee.

Can I rent a car in Russia with driver?

No, VIP Cars only offers self-driven cars.