Car Rental Saint Lucia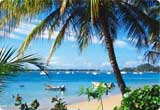 Saint Lucia is a sovereign island country located in the Atlantic Ocean. It is the most mountainous of the Caribbean islands and is considered to be among the most picturesque.
The George FL Charles Airport and the Hewanorra Int'l Airport are the two airports serving this island. Soufrière is the ancient capital and offers activities such as snorkeling and scuba-diving, and has many natural attractions in it. Castries is the capital and contains many historical landmarks.

Whether you wish to spend time at its local beaches to drive to a volcanic landscape for adventure, a rental car is a great way to explore this island country. Contact us now and get exclusive car rental deals in St Lucia.