Car Rental Novi Sad Downtown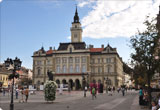 If Novi Sad is all about commercial as well as governmental establishments, its downtown if famous for some of the best hangout places. Besides liveliest shopping plazas, large cathedrals, impressive art deco buildings, grand museums, and mesmerizing art galleries, the downtown is dotted with number of restaurants as well as plush hotel accommodations. A relatively large downtown area, the place is conveniently doable in a rental car that lets you visit and explore the place at your own pace. Pick up a rental car from Belgrade International Airport, which is just 11 miles away from Novi Sad Downtown.

Grab a best-in-class Novi Sad Downtown car rental deal from VIP Cars now!