Car Rental Paramaribo Airport [PBM]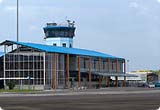 Paramaribo Airport, officially known as Johann Adolf Pengel Airport, is a public airport located in the town of Zanderij, around 45 km's from the capital city Paramaribo in Suriname. Named after a former Prime Minister of the country, it is the only int'l airport in the country and the primary gateway for travelers visiting Suriname. It is operated by the Johan Adolf Pengel International Airport (JAPIA) Corporation, and is used by many international as well as domestic travelers. This airport is served by a few international as well as low cost airlines that connect it to destinations such as Curaçao, Port of Spain, Georgetown, Amsterdam, Aruba, Miami and many more. It has a few amenities in it such as a bank, a duty free shop, a beverages shop along with the facility for hiring a rental car.

So, book now and get high quality car rental deals from VIP Cars at Paramaribo Airport.