Car Rental Dar Es Salaam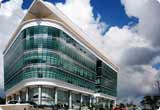 Located about 281 miles east of Dodoma, capital of the United Republic of Tanzania, Dar Es Salaam is one of the affluent cities of Eastern Africa. In addition to largest concentration of government offices, the city is home to more than 80% of the country's business houses. Dar Es Salaam's flawless road and marine transportation infrastructure, along with its strategic location near the Indian Ocean, has contributed to make a city a commercial as well as tourism centre. Besides its diversified cuisine, the city is known for number of worth seeing tourist attractions such as, National Museum of Tanzania, Village Museum, Msasani Peninsula, Dar es Salaam Marine Reserve, Bongoyo Island, and Botanical Gardens. Dar Es Salaam International Airport is the closet aerodrome facility to the city.

Book an economical Dar Es Salaam car rental deal from VIP Cars now!