Book a car rental in Pattaya Downtown to save loads of money!
Book a car rental for Pattaya Downtown via VIPCars.com for the best prices for a wide fleet of cars provided by renowned brands. Our car rental fleet come from world-class vehicle manufacturers such as Toyota and Honda. To add to the advantages, our booking form is diverse and answers all your selection queries such as the number of seats in a car, car transmission, number of doors, etc.
Go for a VIP car rental in Pattaya: We advise the renter to go for a car rental with air-conditioning as Pattaya is a hot city. Pick up a rental car from any of our supplier locations to drive around confidently in the happening downtown of Pattaya. VIP Cars offers perfect commuting deals for a great Thai holiday so take advantage of our user-friendly Pattaya Downtown car rental reservation process.
Make the most of our user-friendly Pattaya Downtown car rental reservation process.
Which car rental company do we work with at Pattaya Downtown?
Budget Rent A Car
Thai Rent a Car
Hertz Car Rental
National Car Rental
Car rental categories available in Pattaya Downtown
Mini
Economy
Compact
Standard
Fullsize
Van/Minivan
SUV
Car rental inclusions with our deals in Pattaya Downtown
All of our car rental deals are provided with many inclusions which include advantages such as the following.
Unlimited mileage

An unlimited mileage frees you from the tensions of the distance travelled, it is helpful for long distance drives.

Personal Accident Insurance (PAI)

A PAI provides benefits to the car renter in case of a road accident involving injury or death.

Third Party Liability (TPL)

TPL is very helpful if a renter causes harm or threat to the property of someone else.

Taxes

Most of the suppliers include taxes in the price of the car rental.
Add-on extras you can add to your deal while renting a car for Pattaya Downtown
To personalise your car rental experience in Pattaya Downtown, we let you add many extra comforts to your deal while making the booking. The process of doing so is a cakewalk and requires just a click and an extra charge, most of the time.
Additional driver
You can share the burden of driving in Pattaya with your travel buddy especially, during long road trips.
Infant seat
Book a baby seat for the protection of your infant while travelling in the car.
Navigation system or GPS
Navigation is a must in foreign locations especially, when you do not want to waste time on wrong turns, a GPS provides you with the best possible routes.
A guide to Pattaya Downtown
About Pattaya-Pattaya, a popular city on the eastern Gulf Coast of Thailand, is a favourite for tourists who want to explore beaches. The city is full of resorts, malls, bars and a lot more happening places. Another landmark of the city is the Temple known as Wat Phra Yai. Pattaya used to be a humble coastal town until the 1980s, then it became popular amongst tourists. The beaches of Pattaya are crowded by water sport lovers as well as sun worshipers. The city is quite well-known for its blazing nightlife and spas. The city is really large so having a rental car comes handy when you are in Pattaya.
Pattaya Downtown- An area symbolic of hustle-bustle, Pattaya Downtown is an easily-navigable area. The city's downtown area is a prominent tourist hot spot with a number of attractions such as, Beach Road, Pattaya Second Road, Pattaya Third Road, and Sukhumvit Road, located in its vicinity. While there are other small streets dotted with shops and cafes, Walking Street is worthy of being be explored, especially at dusk. You can also drive to South Pattaya Road, which is famous for shopping. Pattaya Downtown is served by U-Tapao International Airport located about 31 miles away from the city.
Popular locations near Pattaya
Bangkok

---

Suvarnabhumi Airport (BKK)

---

Don Mueang Airport (DMK)

---

Rayong

---

Bang Saen

---
Drive to the attractions of Pattaya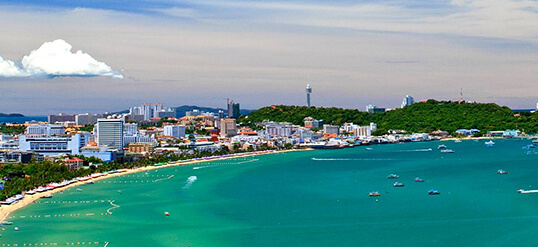 Jomtien Beach
A 15 minute drive away from the city center of Pattaya, Jomtien Beach is also known as Chom Tian and comprises of a long stretch of 6 km.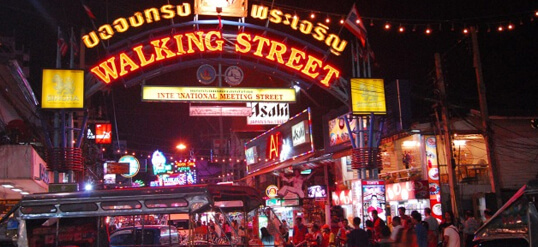 Walking Street
Just 11 minutes away from the downtown area, Walking Street is a hub for nightlife and entertainment, comprising restaurants, bars, hotels, etc.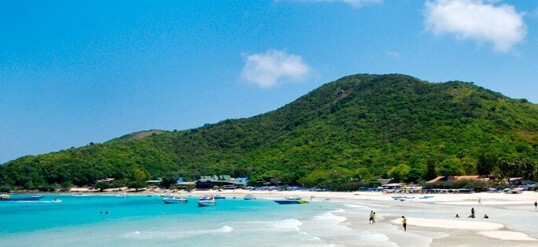 Ko Phai
21km away from Pattaya, Ko Phai is the largest island in the archipelago of Mu Ko Phai. It is well-known for snorkeling and also known as Bamboo Island.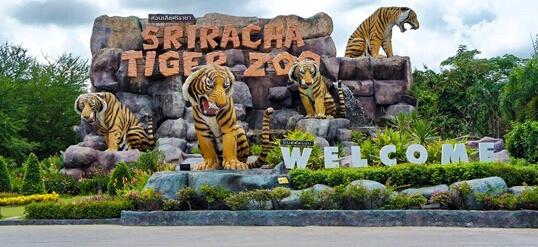 Sriracha Tiger Zoo
You can reach the zoo famous for tigers and other animals in just 35 min (39.5 km) via Route 7 from Pattaya city center in a comfortable car rental.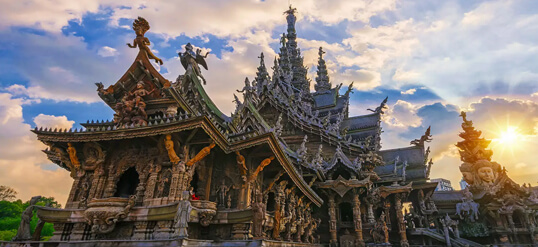 Sanctuary of Truth
Rent to a car to reach this huge wooden temple in just 25 min (9.8 km) via Route 3 from Pattaya Downtown.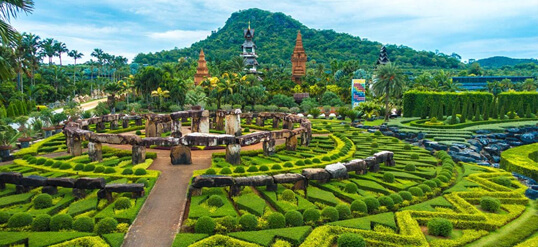 Nong Nooch Tropical Botanical Garden
Half an hour away from Pattaya Downtown, the 500-acre botanical garden is open from 6AM to 6PM.