Car Rental Lome Mercure Sarakawa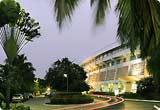 One of the most luxurious hotel properties of Togolese Republic, Lome Mercure Sarakawa is very popular among business as well as leisure travelers. A 200 room heritage property, the hotel is known for its presidential suits and business halls. Also a major car rental pick-up and drop-off location, the place is well connected to number of nearby bazaars, and as well as other worth seeing attractions. Book a cheap and best Lome Mercure Sarakawa car rental deal from VIP Cars, a well established car rental broker that lets you book a commuting deal in just three easy steps.

Make best use of multicurrency booking engine to book a deal now!