Car Rental Trinidad and Tobago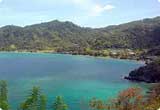 Trinidad and Tobago is an archipelagic state located in the southern Caribbean. The country has two main islands, Trinidad and Tobago. Tobago is well-known for tourism, which is its chief industry and is a popular tourist destination. Both islands have a part of natural beauty. Trinidad and Tobago is renowned for its Carnival.
Popular beaches in Trinidad are Tyrico, Maracas, Las Cuevas, Chagville, Mayaro, and Quinam. Popular beaches in Tobago include Store Bay, Pigeon Point, Canoe Bay, and Englishman's Bay.

Whether planning to explore its party nightlife or drive around its breathtakingly beautiful beaches, car rental in this island is a must for those seeking complete control of their vacation. We, at VIP Cars, let you rent online in advance through some of the biggest suppliers in Caribbean. Book now!