Cheap Car Rental

Izmir Airport (ADB)
---
| | |
| --- | --- |
| Minimum age to rent a car in Izmir: | 20 |
| What Do You Need in Izmir | – Driver's License, an ID, and a Credit Card |
| Minimum rental period: | 1 day |
Reserve a cheap car rental in Izmir Airport (ADB) aka Izmir Adnan Menderes Airport from VIP Cars and save money on your next trip to Turkey. Turkey has been one of the top tourist destinations lately and the beautiful city of Izmir has a significant role in this. To make your trip memorable, rent a car at Izmir Airport from us with VIP Cars, you can search and compare car rentals deals ADB from the top suppliers in one place as per your needs, and you can book it in three easy steps.
How to rent a car in Izmir Airport on VIPCars.com?
SEARCH

Get a list of rental cars at Izmir Airport by filling out the dates of your trip, age, and country of residence.

COMPARE

Compare the numerous vehicles and car rental deals available by different suppliers and chose the one that fits your needs perfectly.

BOOK

Secure the perfect deal for your trip by paying a partial amount online for the rental car of your choice.
At VIP Cars we ensure that the customers get a trouble-free experience on our website while booking a car rental for Izmir Adnan Menderes Airport; we also have an Android App to make the booking experience for mobile users easier. Our simple three-step booking engine lets you hire a car in just a few minutes and saves you the hassle of standing in long queues at the airport to rent a car. So, on your next visit, choose to rent a car in Izmir with VIP Cars and make your trip better than you planned it to be. If possible, book your ADB Airport rental car in advance, before your arrival at the Izmir Adnan Menderes Airport, and grab amazing offers and discounts!
Car Rental Companies at Izmir Airport (ADB)
Partnering with the most trusted international and domestic suppliers, VIP Cars brings you the widest range of rental vehicles in the best conditions, so your trip is smooth and comfortable. The following suppliers have their car rental desks at the Izmir Airport -
Acarent
Alamo
AutoUnion
Avec Car Rentals
Budget
Enterprise
Europcar
Hertz
National
Sixt
Pandora Car Hire
Ace, Alamo, First Rent a Car, National, Nissa Car Rental, Pandora Car Hire, SAX Car Rental, and Surprice Car Rental are also our partners which though don't have car rental desks at the airport, are known to offer 'meet and greet' services.
Car Rental Categories at Izmir Airport (ADB)
Our car rental suppliers offer a great variety of vehicles so that the needs – budget as well as space needs – of a variety of renters can be met. The list given below is not final; depending on the dates of the rental and the supplier, the list may vary.
Mini Car Rental
Convertible Car Rental
Hatchback Rental
SUV Rentals
Luxury Car Rental
Sedan Car Rental
ADB Car Rental – Documents Needed at the Time of Pickup
The renter must carry the following documents at the time of pickup:
Credit card in the name of the renter
International driving permit / valid driving license
Car rental confirmation voucher
Identity proof (preferably passport)
In case any additional documents are required, they will be mentioned by the supplier in the car rental confirmation voucher sent to the customer via e-mail.
Insurances Offered with our Izmir Airport (ADB) Car Rentals
The following are some of the most common insurances offered by our suppliers as the part of their Izmir Airport car rental deals; they may or may not be offered by all the suppliers:
Theft Waiver - In the event of a rental car being stolen, this insurance will cover the customer up to a certain amount and help in paying for the lost vehicle.
Collision Damage Waiver - In the case of an accident, this insurance reduces the liability of the customer to a limit and helps in covering the costs for the damages.
Third Party Liability Insurance - If some physical damage is caused to another person or property, this insurance will cover the customer up to a certain insurance value, above which the customer will have to pay.
ADB Airport Car Rentals - How to Pay for the deal on VIP Cars?
VIP Cars provides its customers with an extremely secure online payment system that relieves the customers of any stress of online fraud. Our payment system also accepts multiple currencies so you can pay in your local currency without any doubts or hassles. However, for the payment that you will make at the car rental desk, you will have to read the payment policy provided by the supplier; you can easily find it in the 'Rental Terms' section of the search page or in the car rental voucher.
Izmir Airport (ADB) Information
The international airport in Izmir, officially known as the Izmir Adnan Menderes Airport, is located 18 km from the city center. The airport has two runways, two terminals - domestic and international – that are connected by a pedestrian walkway. Izmir Airport handles approximately 10 million passengers on average annually.
Local buses, railway, and metro lines connect the airport to several points in the city. The airport is fully accessible to passengers with physical disabilities.
| | |
| --- | --- |
| Address: | Adnan Menderes Airport, Dokuz Eylül Mh., 35425 Gaziemir/İzmir, Turkey |
| Izmir Airport IATA Code:: | ADB |
Izmir Airport (ADB) Facilities
A full-service bank and a currency exchange desk are available in the international terminal, while ATMs are located in both terminals.

Wi-Fi is available free in the international terminal but is paid in the domestic terminal.

Food concessions are available throughout the airport in both terminals.

A few good retail stores at the airport including duty-free shops in the international terminal is available.

Long-term and short-term parking spaces for 2200 vehicles.

Conference and meeting facilities in the business lounges.
Driving Tips for Izmir, Turkey
Here are a few tips for driving in Turkey that you should keep in mind
Cars are driven on the right side of the road.

Speed limits -

City roads - 50 km/h
Open roads - 90 km/h
Highways - 120 km/h

Driving license and other car rental documents must be carried at all times.
Minimum age to rent a car in Turkey is 21 (however it may differ from supplier to supplier)
Children under the age of 12 must ride in the back of the car in appropriate seats.
Since fuel is really expensive in Turkey and parking may prove to be an issue, try to rent a small car, if possible.
Points of Interest in Izmir
If you don't have much time and want to spend a day or two in Izmir before moving on to other Turkish cities, here are a few attractions that you can visit in Izmir in your rental car booked at Izmir Airport.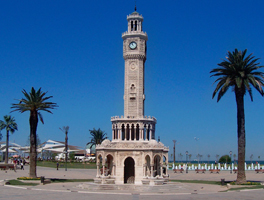 İzmir Clock Tower
15.8 kilometers from Izmir Airport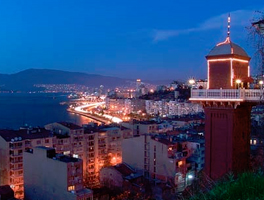 Asansör
22 kilometers from Izmir Airport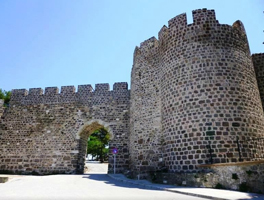 Kadifekale
14 kilometers from Izmir Airport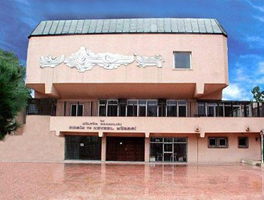 İzmir Art and Sculpture Museum
16 kilometers from Izmir Airport
Suggested Road Trip from Izmir
For people who would like to explore other Turkish cities, here are two of the best road trips that you can enjoy while booking the popular luxury car rental in Izmir or directly booking your ADB Airport car rental.
Izmir to Istanbul (via E881)

Distance: 470 km

Driving Time: 5 hrs 40 minutes
Start driving on E881, you will reach Bursa after 330 km in 4 hours where you can stop to rest.

Places to see in Bursa

Koza Han - a famous market for silk cocoon products and a few cafes along a big garden.
Ulu Cami - the Grand Mosque of Bursa that has some of the world's greatest Islamic calligraphy.
Bursa Archaeological Museum - a national museum with important archaeological artifacts.

Continue on E881 and make a stopover in Yalova after covering approximately 60 km in an hour.

Places to see in Yalova

Yalova Atatürk Mansion - an Ottoman-Turkish style mansion open to the public as a house museum.
Termal - a small district renowned for its hot springs.

Keep driving on E881 for a 100 km more to reach your destination in Istanbul.

Places to see in Istanbul

Hagia Sophia - a well-known museum which earlier was a Greek Orthodox Christian patriarchal basilica.
Topkapı Palace - a 400-year-old large palace which is now a museum open to the public.
Sultan Ahmed Mosque - also known as the Blue Mosque, the place is a popular tourist site.
Izmir to Antalya (via E87)

Distance: 450 km

5 hrs 30 minutes
Drive on E87 for an hour and cover 80 km to reach Ephesus.

Places to see in Ephesus

Temple of Artemis – It is a Greek temple dedicated to the goddess Artemis.
Library of Celsus – It is a refurbished facade of a library built for Tiberius Julius Celsus Polemaeanus in 110 AD.
Basilica of St. John - Built in the 6th century, the basilica stands over the burial of John the Apostle.

Continue on E87 for another 180 km and stop at Pamukkale in 2 hours.

Places to see in Pamukkale

Roman amphitheater of Hierapolis - This grand theater over the Hierapolis ruins has 12,000 seats.
Hierapolis Museum - The museum is housed inside the former Roman Bath House of the city and exhibits archaeological finds.
Travertines – It is a set of bathing pools made of calcite that overlooks the city.

Keep moving on E87 for another 230 km and reach Antalya in about 3 hours.

Places to see in Antalya

Düden Waterfalls – It is a group of waterfalls formed by recycled station water.
Hadrian's Gate – Hadrian's Gate – It is an archway built in the year 130 in honor of the Roman Emperor Hadrian.
Konyaaltı Beach – It is a 7 km long beach along the Beydağları mountains.
FAQs- Car Rental Izmir Airport
MEJORES OFERTAS
Ofertas de Alquiler de Coches Baratos en Turquía
| | |
| --- | --- |
| Económico | USD 12.81 /dia |
| Compacto | USD 13.88 /dia |
| Van / Minivan | USD 20.28 /dia |
| De lujo / Premiun | USD 23.48 /dia |
Ubicaciones de alquiler de Coches cerca de Izmir- Aeropuerto
Top Ubicaciones de Alquiler de Coches en Turquía