Car Rental Entebbe Airport (KLA)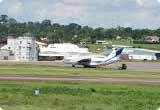 Entebbe Int'l Airport is the principle airport and the main gateway for travelers visiting Uganda. Located at a distance of 41 km's from the capital of the country, Kampala, this airport is situated in the town of Entebbe on the banks of Lake Victoria. This airport serves over to 1.2 million passengers annually and is served by major international airlines such as British Airways, Turkish Airlines, Qatar Airways, KLM and many others, who connect it to a number of destinations such as London, Istanbul, Brussels, Amsterdam, Nairobi, Johannesburg etc.

Entebbe Airport is also noted for being a Co-operative Security Location for the United States military, and also contains the head offices of the UCAA. This airport has a few modern amenities for the convenience of travelers in it. These include a gift shop, an eating area/diner and the facility for hiring rental cars provided by reputed suppliers.