Car Rental Dothan Airport (DHN)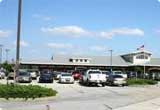 We, at VIP Cars help travelers using Dothan Airport to book high quality car rental deals. Dothan Regional Airport is a joint civil-military airport located in the Dale County of the state of Alabama. Located 9 km's northwest of the CBD of Dothan, this airport is mostly used by the military for its flight training operations. This airport is also used extensively for general aviation, as well as by air taxi's, helicopters and single engine private aircraft.

Dothan Airport is also used by Delta Connections which operated by ExpressJet has scheduled connections to Atlanta. This airport is noted for its easy check-ins and personalized services. Most modern amenities such as free Wi-Fi, ATM machines, a business center, a gift shop along with a general cafeteria and dining area. The facility for booking a rental car is also available at this airport.