Autoverhuur Little Rock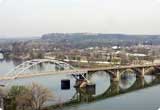 Little Rock is a city situated in Pulaski County and serves as its seat. The capital of the US state of Arkansas, this city is located around a small rock formation, for which it is named, around the Arkansas River. Little Rock is noted as one of America's most economically diverse as well as among its most clean cities, and has been slowly but steadily gaining national prominence.

Little Rock has a number of sights and attractions for travelers to visit. The Arkansas State Capitol was modeled after the US capitol and is hence a much visited attraction here. A monument honoring the Little Rock Nine is also located at the state capitol. Other prominent landmarks here include the Daisy Bates House, the Central High School National Historic Site and Museum, the Old State House, the Little Rock River Market District and the Cathedral of St Andrew.