Car Rental Stamford Downtown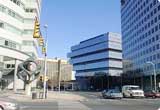 Stamford Downtown is within easy driving distance of several interesting attractions, including museums, beaches, nature areas, parks and sporting facilities. There are also good hotels and fine restaurants within the immediate surrounding areas.
Stamford Downtown is best explored by car rental. Enjoying links to all major car hire companies around the world, VIP Cars is a favourite in car rentals in Stamford Downtown. Customers enjoy the wide choice of vehicles offered, the great supportive booking services, fantastic terms, excellent all inclusive packages and low price competitive rates. With so many positive points, it is plain to see why many people trust VIP Cars to take care of their car needs. There are several convenient collection points across the Stamford Downtown area, making the experience even easier and hassle free for customers.