Car Rental Wilmington Train Station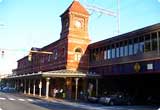 The official title of Wilmington Train Station is the Joseph R. Biden Jr. Railroad Station, named in honour of US Vice President Joe Biden. It was previously known as Pennsylvania Station. It is located in the downtown area of Wilmington. Inside, there are shops, a cafe, ticket offices for different operators, and a post office. The train station has undergone a large restoration and improvement project.

Although there is a car hire office at the train station, you can pay less by arranging your hire car in advance online. VIP Cars offer some of the best rates for all inclusive car rental packages. An advance booking will ensure that your choice of vehicle is available to collect at the train station, at a price that suits you.