Autoverhuur Augusta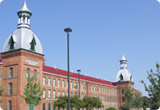 Augusta is a city in the US state of Georgia. It is situated at the fall line of the Savannah River. Its sister cities are Biarritz in France and Takarazuka in Japan.

It is well known for being the host of The Masters Tournament in golf every year in the springtime. The area has been inhabited for a long time by indigenous people. It was used as a natural place to cross the Savannah River. The climate is humid subtropical. The winters are short and the summers are intensely humid. The Sacred Heart Cultural Centre is a pretty building in the heart of Augusta.

The downtown area has an interesting historic district. There are several parks and green spaces in Augusta, including Riverwalk Augusta, Augusta Common, Augusta Canal, Aqueduct Park, a swamp nature park, Brookfield Park, Diamond Lakes Regional Park and Brookfield Park. VIP Cars' all inclusive car rental packages are ideal when visiting Augusta.