Car Rental Ala Moana Blvd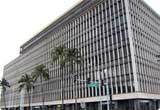 One of the major commercial residential districts of Honolulu, Ala Moana Blvd shares borders with Waikiki, Kakaako, King Street, Makki, and Honolulu Harbor. Settled along the Oahu Island's southern shires, Ala Moana Blvd is known for its large stretch of reef-protected white sand beaches. The district center, known as Ala Moana Center, is home to world's largest open-air shopping centre. Well connected by network of Ala Moana Blvd and Kapiolani Boulevard roads, the place is worth to be discovered in a rental car. Don't forget to drop by the Ala Moana Beach Park, a beautifully designed nature's masterpiece. Hawaii International Airport is the closet aerodrome facility to Ala Moana Blvd and its nearby suburbs.

Book a low cost Ala Moana Blvd car rental deal from VIP Cars!