Car Rental Des Moines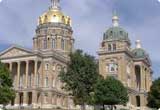 The city of Des Moines serves as the capital of the state of Iowa in the United States of America. It offers great options to travelers and tourists who come here on a holiday. There is a lot to be discovered and explored; the best way to do that is hiring a car for Des Moines through VIP Cars. You can start by planning a tour to the museums and art institutions located in the city.

The next best place to be visited is the Science Center of Iowa; movies and exhibitions are a regular feature here. Even the young crowd will not be disappointed when in Des Moines. The city has many great clubs and bars where one can hang out with family and friends and have a wonderful time. For some adventure, head to Blank Park Zoo for a train ride. You can also try ice-skating at Brenton Plaza.
Hurry and book now!