Car Rental Great Falls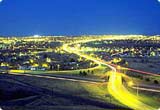 Serving as the county seat of Cascade County, Great Falls is one of the picturesque cities of Montana. Visit the city for - Great Falls Portage, C. M. Russell Museum Complex, Giant Springs, and Roe River. In addition, Great Falls is also home to the Four Seasons Arena, a multipurpose exhibition arena and indoor sports complex. Constructed way back in 1979, the structure was earlier used as an ice rink. As the city witnessed massive growth in early 2000s, the Four Seasons Arena was transformed into a happening venue for organizing exhibitions, music concerts, and indoor sports tournaments. Great Falls International Airport, located about 5 miles away from the city centre, is the nearest aerodrome facility to Great Falls and its suburbs.

Think affordable Great Falls car rental deals! Think VIP Cars!