Car Rental North Platte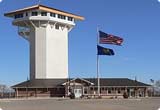 Located at a confluence of North and South Platte Rivers, North Platte is a city in Nebraska's Lincoln County. Famous for Nebraskaland Days, an annual event organized during the month of June, North Platte is also a beautiful tourist location. Attended by more than 100,000 tourists as well as locals, the event includes art shows, food events, parades, rodeos, and other concerts. Other notable tourist attractions include – Golden Spike Tower, Lincoln County Historical Museum, Pioneer Cathedral, Pony Express Station, Buffalo Bill Ranch State Historical Park, and Bailey Yard, the world's largest rail yard. North Platte Regional Airport, located around 5 miles away from the city centre, is the nearest aerodrome facility to North Platte.

Book an irresistibly priced North Platte car rental deal in just three easy steps now!