Car Rental New Brunwick Train Station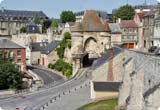 We at VIP Cars work with some of the best suppliers in USA to provide our customers with the best New Brunswick Train Station car rental deals at affordable prices. For all kinds of assistance, get in touch with our customer care team.

New Brunswick Train Station is a part of the state of New Jersey.. There are a total of 2 platforms and 4 tracks at the station. Hiring a car for all your commuting needs to and from New Brunswick Train Station is one of the wisest decisions you will ever make. A car rental is a cost-effective and time-saving way to travel, and highly comfortable at the same time.

Hurry and book with us today!