Car Rental Rocky Mount Downtown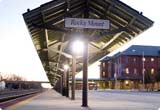 Rocky Mount Downtown is the major urban core located in the two counties it spreads. The downtown has several restaurants, enchanting shops, and area services. Rocky Mount Downtown is the best place to begin a new business or move an existing one. You can promenadebeside the tree-lined streets and enjoy the theatre, exhibits, galleries, and the outdoor sculptures at the Imperial Centre for the Arts and Science. Also visit the historic Douglas Block.Rocky Mount is the primary city of the Rocky Mount, North Carolina area. Rocky Mount operates the Maria V. Howard Arts Center, a Community Theater at the Imperial Centre for Arts and Science, and a Children's Museum and Science Center.

Make use of our car rental services in Rocky Mount Downtown and explore all the attractions with utmost ease.