Car Rental USA Oklahoma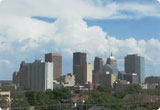 Famous to the outside world as the location of the tragic Oklahoma City Bombing, Oklahoma is a state located in the Great Plains region of the United States of America. With trivial mountain ranges, mesas, prairie, and eastern forests, most of Oklahoma lies in the Great Plains and the U.S Interior Highlands.
Oklahoma City National Memorial and Museum is one of the most seeable attractions in the city.
Oklahoma is recognized as anoutstanding place to live and visit. You will discover pine woods, mountains, and lakes in the eastern side of the state, plains and biomes with rolling hills in the middle of the state. There are all kinds of activities available from fishing, hunting and hiking to gambling, in one of the hundred or so casinos and bingo parlors.
Get top Oklahoma car rental deals at low-cost from us. Call us now and get more!