Car Rental USA Oregon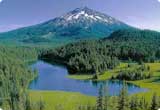 Known for its rugged rocky coastlines, fun cities, thick forests, deep canyons, mountains, and desert in the southeastern part of the state, Oregon is a state located in the Pacific Northwest region of the United States. Crater Lake National Park is the only national park in Oregon. Willamette National Forest offer several recreation activities including sailing, hiking, and camping at Waldo Lake. Mill Ends Park in Portland is the major park in city boundaries in the Pacific Northwest.

Enjoy the outdoors by camping at Devil's Lake, Tillamook State Forest, Ft. Stevens, and Detroit Lake State Recreation Area. Oregon is home to numerous breweries and Portland has the leading number of breweries of any city in the world.Sightseeing in USA Oregon can be made easy with a low-cost car rental deal. Try our easy to book rental form given here to search for more pick up locations.