Car Rental Rapid City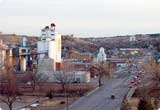 Famous as the 'Gateway to the Black Hills', Rapid City is one of the major cities in the state of South Dakota in the United States of America. The city has a lot to offer in terms of places to visit and activities to do. Art and culture enthusiasts will take delight in visiting the museum and galleries in Rapid City. If you love nature, then do plan a trip to the wildlife parks in Rapid City.

Going to all these places becomes really easy and hassle-free when you rent a car through us. Rapid City has some very good options in store for visitors, when it comes to shopping and eating out. A significant feature of the city is life-size sculptures of American presidents from the past, because of which it is sometimes referred to as the 'City of Presidents'.

Hurry and book a car rental for Rapid City through VIP Cars today!