Autoverhuur Austin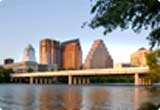 Austin is the State Capital of Texas and the state's fourth largest city. It is a place made famous is song and story, and is certain to impress visitors. People who enjoy being outside will enjoy the cycling tours of the city, the equestrian trail rides and the various parks, lakes and nature reserves. For those who want to be entertained, there are high-end magic shows and theatres and comedy clubs.
Of course, being a Capital, Austin offers many historic and cultural highlights. The LBJ presidential library is worth visiting, as is the Capitol Building and the State's Museum of History. For shoppers, go to SoCo, a district full of trendy stores and cafes. Restaurants are diverse, ranging for ethnic to all-American fast-food favourites.

Since Austin is such a large city, it's recommended to rent a car to get around. With a rental ar you can also drive down to nearby suburbs and cities.