Car Rental Salt Lake City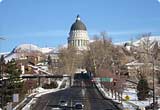 Salt Lake city, site of the 2002 winter Olympics, this large urban centre is mostly known as the headquarters of the Church of the Mormons. The Mormons certainly do play an important role in the city, however there is much more to this city.
Of course, the baggiest attractions are connected to the Mormon Church, such as the Temple, Tabernacle and associated buildings. However, there is also a natural history museum, a large public flower garden and the family research library (any genealogists dream). Music lovers will enjoy concerts at the symphony hall, organ recitals or a performance at the lavish concert hall. Throughout the year, diverse festivals are held in Salt Lake City, some related to the Mormon Church, others not.

Find cheapest rental deals, best rental options and much more with VIP Cars. Book now!