Car Rental White River Junction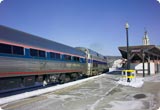 White River Junction is an unincorporated village located in the town of Hartford in Windsor County, Vermont. The village has the White River Junction Historic District registered on the National Register of Historic Places in 1980. The district is surrounded by the Central Vermont railroads, South Main Street, and Gates Street. The district has many remarkable buildings such as the First National Bank building, White River Junction Fire House, Coolidge Hotel and a U.S. Post Office building. White River Junction entertained the yearly Vermont State Fair from the mid-19th century till the mid-20th century. A special rail incite took visitors uphill from the station to the fairgrounds. The village is home to the Center for Cartoon Studios which is a 2-year art school centering on sequent art. The village is also home to the Tip Top Building that has creative businesses, artists, and a cafe.

Rent a car in White River Junction from VIP Cars now!