Car Rental USA Wyoming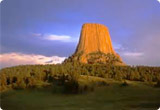 An outstanding place to explore the American West, Wyoming is a state located in the mountain region of the western United States. With immense blue skies, numerous pristine mountain views, and the awesome scenery of the high plains of Rocky Mountains, Wyoming presents much of what travelers look for. Wyoming's attractions include archaeological cherishes such as Castle Gardens and ghost towns from the initial frontier days.

Grand Teton National Park and Yellowstone National Park are places that everybody should visit at least once in their life. Devils Tower National Monument is a kind of natural wonder located close to the town of Hulett in northeast Wyoming. Wyoming comprises canyons with stretches of whitewater ideal for thrill-seeking rafters. VIP Cars serve both family vacationers and leisure travelers and provide best USA Wyoming car rental services and make your trip memorable.