Car Rental Venezuela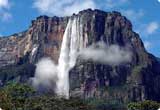 Venezuela is a country located on the northern coast of South America. Land of world's highest waterfall Angel Falls and South America's second longest river the Orinoco, Venezuela is a country that enjoys mesmerizing Caribbean coastline and is bustling with natural beauty. Ecologically, Venezuela is regarded amongst the 20 Megadiverse countries in the world. The national capital, Caracas is Venezuela's centre of commerce, industry, education, and tourism.

The Venezuelan landscape includes towering mountains, wide river plains, tropical forests, and arid coastal plains all of which offer a range of natural habitats. Canaima National Park in La Gran Sabana of southeastern Venezuela was indicated a UNESCO World Heritage site in 1994. El Avila National Park is popular amongst campers and hikersfrom the Caracas area. VIP Cars offer best quality car rental services in Venezuela at economical prices, to both business and leisure travelers. Get your rental now!