Car Rental Zimbabwe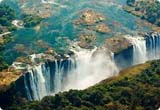 A wonderful place for tourism, Zimbabwe is a landlocked country situated in southern Africa. While a large number of tourists arriving in this city come to capture the great Victoria Falls, one of the most outstanding natural wonders of the world and Lake Kariba known for its natural surroundings and African wildlife, Zimbabwe has so much more to offer to nature lovers and adventurers seeking new things to discover.

Apart from popular cities like Binga, Harare, Masvingo, Kariba and Bulawayo, this beautiful country also offers must visit locations like Great Zimbabwe with its ancient stone city beauty, Matobo and its exquisite rock formations, green and high mountainous views of Eastern Highlands , Chinhoyi Caves and much more. Car rental in Zimbabwe is an economical and comfortable commuting option for travelers looking to explore all the attractions with utmost ease.

Find your rental deal for Zimbabwe with us now!