Car Rental Luanda Airport [LAD]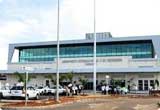 We provide high quality car rental deals for travelers using the Luanda Airport. Officially known as the Quatro de Fevereiro International Airport, this airport is named after an important date in national history. This airport serves the city of Luanda, and is used by many major airlines and has flights to destinations across Europe, Africa and the Middle East. This airport has a few modern amenities in it including a duty free shopping area, a restaurant and a bar. Major car rental suppliers Avis and Sixt provide us with a large fleet of vehicles across a variety of segments to present to you to choose from. So, contact us now and get low cost car rental deals at Luanda Airport.

Luanda is a large coastal city and the capital of Angola. Augostinho Neto Mausoleum is a obelisk type mausoleum towering over the city skyline and dedicated to the first President of Angola. The Fortress of São Miguel is a major fortress located here and along with the Fortress of São Francisco do Penedo was the first two fortifications built by the Portuguese here. The colonial style Governor's House is another popular attraction located in this city.

So, contact us now and in a few easy steps get attractive car rental deals at Luanda Airport.