Car Rental Rainha Ginga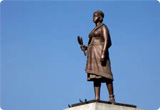 We provide travelers visiting Rainha Ginga in Luanda with high quality car rental deals. Our unique services provide travelers with multiple free inclusions along with a choice of pick and drop off locations in the region, Rue Rainha Ginga is part of the main business district in Luanda. It is also home to a number of national government ministries along with many foreign embassies. So, book now and get great car rental deals in Rainha Ginga.

Luanda has many attractions for travelers to see. Fortaleza de São Miguel is the former colonial administrative center and is now a popular tourist attraction. Augostinho Neto Mausoleum is a towering obelisk type mausoleum dedicated to the first president of Angola and another important landmark here.

So, book now and get affordable car rental deals in Rainha Ginga.