Car Rental Yerevan Airport [EVN]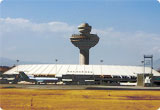 Yerevan Airport is an international airport located about 12 kilometers away from the center of Yerevan. Yerevan "Zvartnots" International Airport is the main gate to Armenia. Yerevan International Airport has lots of duty-free shops. It also has a relaxing atmosphere. The airport isn't as big as other international airports, which makes it easier to walk around and not get lost.

Yerevan is full of wonderful attractions. There's Abovian Street, where you can see Belle Époque period structures of Republican Armenia. There's Mashtots Avenue, which is an 8-lane highway, and also leads to the Blue Mosque and the Mantendaran. Mantendaran houses the world's largest collection of Armenian manuscripts. The Covered Market is in an original building with beautiful architecture. People sell fresh and sun-dried, organic produce there. Yerevan has lots of charming places and the art collections are beautiful. Tourists who want to visit all the attractions should rent cars from VIP cars. For quick and easy online booking, call our booking team now!