Car Rental Graz Airport [GRZ]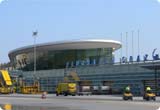 Graz Airport is located just south of the city center and has a long history. Building began in 1913. The first flight took place the next year. In 1925 the first domestic flights started between Vienna, Graz and Klagenfurt. As it became busier, a terminal was built in 1937. Because of its part in the Second World War, Austria was not allowed any planes and the airport sat unused until 1951 when the ban was lifted.
Today, Graz Airport is a modern complex with all the amenities you would want or need in an airport. There are several shops, including a duty free shop and one that has groceries and other convenience items that you may need. Free Wi-Fi access in the departure areas, a comfortable VIP lounge, an emergency passport site and cafes and restaurants are all available in the airport. Car rentals are a popular means of getting from the airport to the city.

Hire a car at Graz Airport now and get all inclusive pricing.