Car Rental Innsbruck Downtown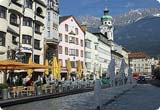 Innsbruck Austria is a historical city full of life and offering many activities for travelers. You will find castles, cathedrals, museums and parks throughout the city. There are bars and restaurants in the downtown area offering fun nightlife activities. You will also find several hotels ranging from budget conscious to high end in Innsbruck.

In the winter you will find many ski activities and events like the ski jump contest and the snowboarding contest. A popular springtime event in downtown is called Sound City. This includes many pubs and clubs becoming one big party with shuttle buses dropping off and picking up guests throughout the city. The summer months are when many tourists visit the city, usually on tour of popular European destinations.

Find best car rental deals, all inclusive pricing and top fleet of cars to choose from. Call us now!