Car Rental Almoayed Tower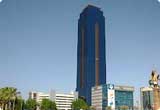 Almoayed Tower is a skyscraper located in Seef - a neighborhood in Manama in Bahrain. The tower stands at 172 meters tall and is comprised mainly of commercial and business complexes. One of the tall towers in Bahrain, the Almoayed Tower is also called the Dark Tower because of its dark painting.

The Almoayed Tower has a total of 42 floors and houses thousands of shops and offices from different companies. The tower has a shopping mall located at the ground floor and mezzanine. It also has booster antennas from major telecommunication companies in the country as well as a helipad.

This structure is not only frequented by tourists but also businessmen alike. Those who go to Almoayed Tower can easily reach the place through cars from VIPcars.com. At VIP Cars, we are associated with many rental companies in the country thus we can get you to Almoayed and nearby sites as well.