Car Hire Barranquilla Airport (BAQ)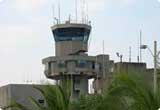 Barranquilla Airport also known as Ernesto Cortissoz International Airport is serving the area of Barranquilla. Barranquilla Airport is situated in the municipality of Soledad around 12 km from the middle of Barranquilla. The airport functions as a focus city for Avianca. Barranquilla Airport is the most significant airport in terms of infrastructure in the northern part of the country and 1st in terms of cargo movements. The airport is 5th in number of passengers. The airport has one runway and one passenger terminal. Terminal facilities include- a series of shops, 36 check posts, a Duty-free shop, a restaurant and passenger cafes.This airport has 3 ramps for parking aircraft and they are used by commercial aircraft, military aircraft, and cargo aircraft.

Hire a car at Barranquilla Airport from VIP Cars and travel in comfort.