Car Hire Barranquilla Downtown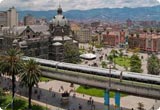 One of the prominent historic districts of Colombia, the Barranquilla Downtown is dotted with number of art deco structures. Besides historic landmarks and buildings, the downtown is known for its splendid plazas. As the place is connected via number of roads, you can enjoy driving around the place and at the same time enjoying delicious food. A happening tourist destination, Barranquilla Downtown is also known for its fine collection of up-market restaurants and clubs. All this is best explored in a rental car. With VIP Cars offering cheap and best car hire deals, inclusive of numerous supplier inclusions and waivers, you get a best priced commuting deal.

Just follow three simple steps to book a frugally priced Barranquilla Downtown car rental deal from VIP Cars!