Car Rental Bucaramanga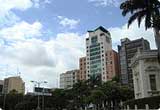 Bucaramanga is a capital city of Santander, Colombia. Bucaramanga has the 6th largest economy in Colombia. The city is the home of the Colombian Petroleum Institute. For visitors, the city has ancient towns with plenty of history and attractive landscapes and this makes the visit to Bucaramanga worthy. The biggest zone in the city is Cabecera. Cabecera is the mostmodernistic area in the city with number of malls and entertainment options like restaurants, cinemas, and shops. Ruitoque is the greatest place in the country for both tandem and paragliding courses. The downtown area has majestic buildings like Dolores Chapel and the churches of san Laureano. Chicamocha National Park offers an outstanding view of the enormous river canyon Chicamocha.

Rent a car in Bucaramanga at low prices from us now!