Car Rental Brazzaville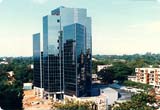 Brazzaville, located beside the Congo River, is Congo's capital city and the biggest city in the country. The place is also known as Congo-Brazzaville.
When visiting Brazzaville, you need to know that it has a tropical climate, therefore rain showers can occur at any time of the day. In order to keep you dry while checking out the tourists spots, it is recommended that you get a car rental. You can quickly and easily book online at VIPcars.com and if ever you encounter questions we also offer a 24/7 customer service.

You can check in at the Laico Maya-Maya Brazzaville Hotel for a peace and quiet place to stay. Then check out the Bakongo neighborhood for some local sites and a great stroll. This neighborhood also transforms at night into a busy street food and drinking place, very local and ethnic in ambiance. For some local delicacies, try street foods like: manioc and beignets.