Car Rental Ayia Napa Hotels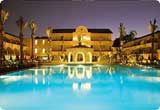 The next time you are on vacation in Ayia Napa, you do not have to worry about planning your stay at a hotel or commuting to various sightseeing places in and around the region. We work with top suppliers in Cyprus to provide economical car hire solutions for various hotels in Ayia Napa. You can book your rental online, and choose pick-up and drop-off locations as per your convenience and suitability.

The holiday resort of Ayia Napa lies along Cyprus's southern coast. Known mainly for its beaches, Ayia Napa has a number of luxury hotels for tourists. Most of these can be found in the vicinity of Nissi Beach, which attracts a huge number of visitors, especially during the summer months. These hotels offer stunning views for guests to take delight in, and are well-equipped with world-class facilities.

Hire a car for any of the hotels in Ayia Napa, and be assured of a great experience.