Rent a cheap car for Larnaca Airport (LCA)on VIP Cars
Reserve a car rental for Larnaca Airport (LCA) and make your trip to Cyprus comfortable and easy.
A car rental for Larnaca Airport will not only save you time and money but also efforts as on our booking engine you can compare LCA deals from all the top suppliers at a range of prices with no compromises on quality! Book your car rental for Larnaca Airport in advance, and save money on our monthly and daily deals. Book today for discounts and special rates!
Car categories Available for Renting at LCA Airport
Our car rental suppliers offer a big range of car categories for Larnaca Airport; the following are the ones that you can expect to come across while conducting a search with us:
Mini

Economy

Compact

Minivan

SUV

Luxury Cars
This is a tentative list; it can vary on the supplier's end as per availability.
Car Rental Companies at Larnaca Airport (LCA)
Our well-established network of suppliers helps us in providing you with cheap car rental deals for LCA Airport; several of our car rental suppliers that provide deals for Larnaca Airport are listed below:
Alamo
Budget
Sixt
Europcar
Hertz
National
Dollar-Thrifty
Enterprise
Out of these suppliers only Sixt, Europcar and Budget have their car hire desks at the airport; others partners offer 'meet and greet' services.
Information Covered by the Car Rental
Voucher for LCA Airport
Your car rental voucher for LCA Airport will provide all the information that you might need; from rental pickup address to directions to reach the car rental desks at the airport, the voucher covers almost everything that the renter might want to know.
Take a print out of the rental voucher and bring it along at the time of car rental pickup. Read the voucher properly for a better experience at the time of pickup and drop-off.
Some of the points covered in the rental voucher are:
Supplier Details
Pick-up/Drop-off addresses
Car Details
Payment details
Cancelation Policy
Fuel Policy
Inclusions Covered
Mandatory Documents
Extras that you can Add
to your Larnaca Airport Car Rental
Travelers renting cars for Larnaca airport can also add extras to their deals by paying a small amount which is added to the final car rental bill in case you choose to rent an extra.
GPS
Toddler Seat
An Additional Driver
Wifi
It is a fact that almost every supplier offers its own set of extras which vary from location to location and demand; it is a tentative list and every extra may not be offered by all the suppliers
Inclusions Offered with
Our Larnaca Airport car rental deals
The car rental companies that offer deals for Larnaca Airport provide the following inclusions that are covered as the part of the quoted price, and hence you don't have to pay anything extra for these later on.
Unlimited Mileage
Collision Damage Waiver (CDW)
Theft Waiver (THW)
Supplementary Liability Protection (SLP)
The above-mentioned list is for guidance purposes only; all the suppliers might not be offering each and every inclusion that is listed in this section.
Places in the City Where You Can Return Your Larnaca Airport Car Rental
For those travelers who want to pick their rental cars at the airport but would like to return it somewhere else within the city of Larnaca, here are the places where our suppliers allow drop-off: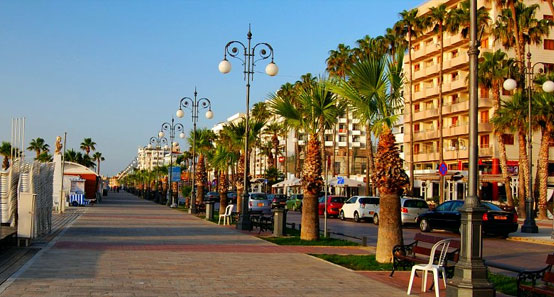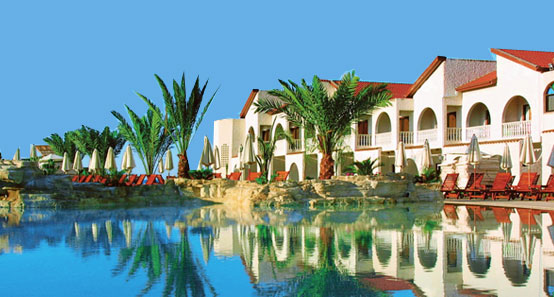 Since this will be counted as the case of one-way, you will have to pay a small fee. Use the 'different drop-off' section on our search form and choose the drop-off location; here you can also choose another Cyprus city. In this case, the deals that will be shown on completion of the search will be inclusive of the one-way rental fee.
Petrol Stations near Larnaca Airport
The fuel policy offered with your Larnaca airport car rental will depend on the suppliers from whom you are renting the car. In case the supplier is offering full to full or half-half fuel policy, here are a few petrol/gas stations which are located close to the airport that you can use as in the above policies it will be your responsibility to refuel your car before returning it.
Lukoil
Distance from Airport: It is located approx 6 minutes from LCA Airport via B4 and Αρτέμιδος/B4
ESSO
Distance from Airport: This gas station is located about 9 minutes from LCA via Αναχωρήσεις
Petrolina Petrol Station
Distance from Airport: This gas station is also approximately 10 minutes from LCA via Παναγίας Ελεούσας.
Read the T&Cs for the specific Larnaca Airport car rental that you are going to rent to know more about the fuel policy offered by the supplier.
Larnaca Airport – Overview
Serving the city of Larnaca, Larnaca Airport is an international airport in Cyprus and is located about 4 kilometers from the city. In 2016, the airport's name was changed from 'Larnaca Airport' to 'Larnaca International Airport – Glafcos Clerides' as a means to pay homage to the former President Glafcos Ioannou Clerides.
| | |
| --- | --- |
| Address: | 6650 Larnaka International Airport, Larnaka, Cyprus |
| IATA Code: | LCA |
Facilities Available at Larnaca Airport
Lounges at LCA

There are two lounges at Larnaca Airport, one is Aspire Aphrodite Executive lounge and the other one is Aegean Business Lounge. Aspire lounge has the seating capacity of 214 passengers and is located on the third floor of the airport and can be used by any traveler by paying their fee. Aegean is also located on the third floor and can be accessed by passengers of Aegean airlines and those which are gold card holders of Miles & Bonus and Star Alliance.

Car Parking Options at LCA Airport

Long-term parking (covered and uncovered), Short-term parking, 'Drop-off and pickup' and PRM parking are the car parking options available at Larnaca Airport. Drop-off and pick-up are offered free of cost but is permitted only for a minute; short-stay parking allows services up to a day, while in long-term-parking services upto 5+days are provided. PRM Parking is for people with disabilities.

Shops and Dine Options at LCA

In the case of food options, LCA provides counters under categories: Grab and Go, Fast food, Restaurants, Bars, and Cafes. And, when it comes to shopping options, you can expect to find outlets which fall into the following categories: Perfumes & Cosmetics, Spirits, Electronics, and Souvenirs.
A bit about Larnaca
One of the largest Cyprian cities located on the southern coast, Larnaca is famous for its beautiful coastline. An emerging commercial hub, the city is also known for its massive and modernized port. Its cultural heritage and rapidly flourishing economy attract leisure tourists and business travelers in large numbers. The city also plays host to several tourist-oriented festivals throughout the year.
Points of Interest in Larnaca
If Roads trips are not what you are seeking, there are enough places in Larnaca itself which you can visit in your car hire. Since some travelers might be visiting over a layover we have made sure that they are close to the Larnaca Airport: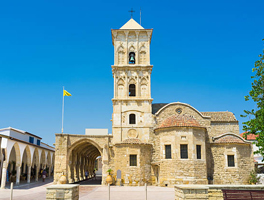 Church of Saint Lazarus
12 minutes from LCA Airport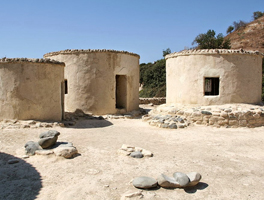 Khirokitia
25 min from LCA Airport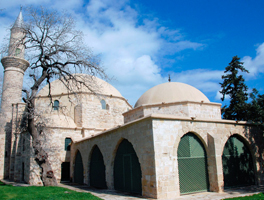 Hala Sultan Tekke
8 min from LCA Airport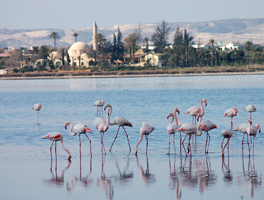 Larnaca Salt Lake
7 min from LCA Airport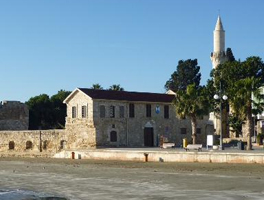 Larnaka Medieval Castle
13 min from LCA Airport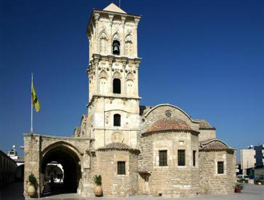 Cathedral of Saint Lazarus
12 min from LCA Airport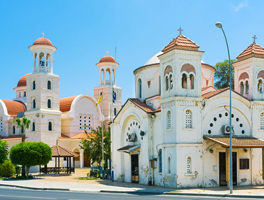 faneromeni church
12 min from LCA Airport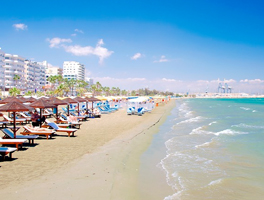 Finikoudes Beach
18 min from LCA Airport
Enjoy the best of Cyprus by Driving from Larnaca to Paphos
With a car rental at your beck and call, not just Larnaca you can also explore other cities of Cyprus without much ado. Here we are providing a list of places that you can see while driving from Larnaca to Paphos in your Larnaca car rental!
Places To See on the Way
Larnaca to Tochni
Driving time: Approx 33 minutes
Distance: 38.3 km via Λεμεσού
Points of interest in Tochni
Lisbon Oceanarium
Santa Justa Lift
Lisbon Cathedral
25 de Abril Bridge
Tochni to Ayios Tykhonas
Driving time: Approx 18 minutes
Distance: 24 km via A1
Points of interest in Ayios Tykhonas
Galactica
Akti Olympion A beach
Oasis Luna Park
Ayios Tykhonas to Kouklia
Driving time: Approx 33 minutes
Distance: 60 km via A6
Points of interest in Kouklia
Petra tou Romiou
Secret Valley Golf Course
Hambis Printmaking Museum
Old Fountain
Kouklia to Paphos
Driving time: Approx 21 minutes
Distance: 24 km via Λεωφ. Δημοκρατίαςύ
Points of interest in Paphos
Petra tou Romiou
Tombs of the Kings
Kato Paphos Archaeological Park
Coral Bay, Cyprus
LCA Airport Car Rental - Frequently Asked Questions
Almost every car rental supplier provides a grace period - usually, 2 hours - and if you are able to drop the car in this grace period, you will not have to pay any late fee. But if it is more than the grace period, most of the suppliers charge a late fee which is usually equal to the per-day rate.
You can make a car rental booking for Larnaca Airport maximum 12 months in advance. In case you are going to rent a car at the last minute, and the time of pickup is less than 24 hrs, it is better that you call our booking support for quicker results.
You can amend or modify your Larnaca Airport car rental booking by visiting our website's 'Manage Booking Page'; so make sure that you have the reservation number with you. In case you don't have it, you can contact our booking support team to do the same.