Car Rental Usti Nad Labem Vladimir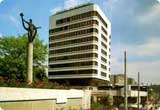 VIP Cars now offers great car rental deals for Usti Nad Labem Vladimir. With suppliers such as Alamo, Czechocar, and Locauto Rent A Car as our partners, we provide inclusive services to our customers in the form of insurance cover, vehicle damage waivers, and road fund tax. For bookings, you can use our online Usti Nad Labem Vladimir car rental portal. The choice of pick-up and drop-off locations is entirely up to you, as convenient.

The city of Usti Nad Labem has sightseeing attractions like Strekov Castle and others for tourists to discover. You could also plan a trip to Ceske Svycarsko National Park. For your stay, Usti Nad Labem Hotel Vladimir is a great option. Good hospitality coupled with amazing food makes it an ideal place to stay.
Hurry and get in touch with us now to book your car rental for Usti Nad Labem Vladimir!