Car Hire Djibouti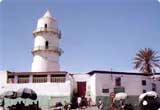 Djibouti is a country located in East Africa. Its neighbors are Somalia, Ethipia and Eritrea. It is strategically located near the Red Sea and the Indian Ocean thus it is a key access to transshipment.
Being a burgeoning metropolis and a sprawling city, you need to have a car rental. VIP cars is a leading car rental service provider who offers all-inclusive pricing rates with a low price guarantee.
One of the top things to do within Djibouti is scuba diving it offers a huge difference to its dry landscape with its reefs teeming with vibrant life forms.

You can also drive your way to Lac Saal which is third lowest point in the whole world boasting of an elevation of 150 meters below sea level. It is also known as one of the saltiest lakes in the continent. Another unique sit is the Lake Abhe boasting of its moon like terrain.