Car Rental Tartu Airport [TAY]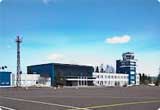 The Tartu airport is situated eight kilometers south of the city which possesses only two regular flights and these are to and from Tallinn and Helsinki. Since Tartu airport is a bit far from the city of Tartu, it is best to have a car rental from VIP cars. Booking from VIPcars.com is quick and easy plus, we also have a 24/7 customer service to help your with your booking.

Being a city torn by previous wars, it now has a considerable modern infrastructure made of steel, cement and glass with great designs. Samples of these are the Emajoe Centre and Tigutorn Tower. These are the tallest buildings in the city.

When visiting the city in the summer, get ready to enjoy the annual Hansa Days Festival. This festival is in honor of the Hanseatic heritage of the town. It is also your chance to experience rousing jousting tournaments and a bustling handicraft market that sells local crafts.