Car Rental Fiji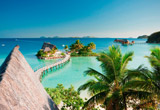 Choose your set of car rental in Fiji from the various types of vehicles offered by us and set out to view its various coastal attractions set amongst its grandeur. Comparatively cheaper, hiring a car in Fiji for a long period of time can prove to be more economical than hiring public transport.

Spanning 180 degree longitude line, Fiji is an island country located in Melanesia in the South Pacific Ocean. Fiji's splendid and ever-varied coral reefs now attract tourists from throughout the world. Fiji is a land of coconut plantations, tropical rainforests, fire-cleared hills, and fine beaches. Fiji has a noteworthy amount of tourism and several people visit the Denarau and Nadi islands. A new 1,500-seat convention centre, luxury hotel, and casino are being originated on Denarau Island. The Fiji Museum is a splendid place for tourists to understand its historical background. Car rental in Fiji is a perfect way to capture its coastal beauty and beaches. 

Best Holiday Destinations in Fiji

Suva triggered

Fiji's Capital city, Suva is located on the country's main island Viti Levu.This city 's architecture is heavily inspired by the Colonial era and one must go shopping, sightseeing and tasting freshly produced goods at the market. Fiji Museum, Colo- I-Suva Forest Park, Thurston Gardens and Albert Park are some of the main attractions of the city.

Nadi

As Fiji's main tourism hub, Nadi is also known as its gateway. It is a city of contrasts where one can enjoy cultural sights as well as urban facilities including restaurants and shopping areas. Most commonly tourists rent a car and take a sightseeing tour around this Fijian city.

Denarau

As one of Fiji's famous holiday spots, Denarau is just 20 minutes away from Nadi.Laced with many water bodies and gardens, this location is known for its idyllic landscapes. This island is also houses a lot of cruise ships and golf courses.

Mamanuca Islands

Mamanuca islands are the perfect place for soaking in sun and surfing through the beach waves. This picture perfect location consists of beautiful locations and many water activity sites

Gastronomy in Fiji

Like many coastal locations, Fiji is famous for seafood. Other condiments and spices such as coconut, chilies, curry pastes etc are extensively used in Fijian cuisine. The gastronomy of this country is very flavorful and its curries are made from freshly ground ingredients. Some of Fiji's specialties are Kokoda Fish, Lovo Feast (Barbeque dinner), Laksa (prawn curry) and Wagyu (Beef Steaks).

Car Rental in Fiji

VIP Cars makes hiring a car in Fiji extremely simple and secure. Our alliance with various renowned rental car suppliers such as Europcar, Alamo and Budget not only gets you the best deals at the lowest possible price but also enables a comparison between deals. Simply enter the location, time and date of your travel, and select the best available car rental deal in Fiji. Book a car instantly in three easy steps.