Car Rental Nadi (All Areas)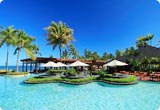 Nadi is located on the western side of the primary island of Viti Levu. Nadi is the 3rd largest metropolis in Fiji. Alongside with sugar cane production, tourism is the backbone of local economy. The Nadi region has a high density of motels and hotels than any part of Fiji. Nadi is a transportation point for other destinations in Fiji. Visit the Hindu Temple located at the southern end of the chief street of Nadi. It is very attractive and biggest in the Pacific. Visit the 1/2 mile stretched Wailoaloa Beach situated in the northern area of Nadi. There are many resorts and beach clubs situated on this stretch. From Thursday to Sunday, come to the Capricorn Hotel amongst Nadi town and Nadi airport at around 8pm. You can sit beneath the bungalow and listen to a fantastic group of Fijians playing modern and traditional songs on guitar, keyboard, and ukulele.

Rent a car for Nadi-All Areas from VIP Cars.