Car Rental Corte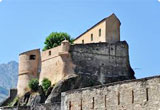 Corte is a commune and city situiated in the Haute- Corse department on the France Corsica Island. Corte is said to be the fourth- largest commune on this island. Also, Corte serves as the sub prefecture for the department of Haute- Corse.

The commune is served by a well- connected railway network connecting several major cities, such as Ajaccio, Bastia and Calvi.

You can now rent a car from VIP Cars and make the most out of your trip to this beautiful French commune. Corte is also one among the various pick up and drop off locations for cars hired through VIP Cars.