Rent a car for Nice Airport's (NCE) Terminal 1 &2
VIP Cars offers a variety of car rental deals for Nice Airport (NCE) that can be requested as per your convenience for pickup either at Terminal 1 or 2. With us, you can search and compare deals from top suppliers on our booking engine through a variety of filters. With us, you can book a rental car in just three steps – search, compare and reserve, and the filters appear during the second step. Suppliers' names, price slider, car categories, fuel type and transmission type are the filters that are offered on the second step of the booking i.e. compare.
In addition to online booking, you can also rent your car for Nice Airport by phone. Our association with the best car rental companies in France is evident of the fact that we render uncompromised quality service. When you book car rental at Nice Airport from us, you can be sure of-
Fair deals with no hidden charges
Round the clock customer support team
Car Rental Center at Nice Airport - Operating Companies & Other Useful Information
VIP Cars works with the best car rental suppliers in France for Nice Airport location, and note that almost all of these have their counters at the airport's Rental Car Center. This facility was added to the airport in 2011, and over the years have become the biggest such facility when it comes to car hires in Nice. The airport receives both pleasure and business travelers all the year round, and depending on their respective policies, these companies offer rental deals up to 30 days. The following are the rental companies - VIPCars' partners - which offer long as well as short-term car hire deals for Nice Airport:
Alamo
Enterprise
Europcar
Goldcar
Firefly
Hertz
National
Sixt
Where are the rental-desks located in the airport? Both the Terminals - 1 as well as 2 - have car rental desks. In terminal 1 the car rental desks are located between Gates A1 and A2, on the right-hand side of the Information office. Car rental center is in Terminal 2, it is located between gate A2 and A3. Note that the desks at terminal 1 cease to operate after 10 pm.
Some Useful Tips for Families Picking Their Car Rentals at Nice Airport (NCE) Terminal 1
---
For the families and friends who are planning an adventure and are picking their car rental at NCE, it is advised that instead of taking them all to Terminal 2, leave the family and luggage at T1. They can stay indoors and can have some snack/drink while you aboard the shuttle to T2 and scout out for the rental.
You can pick them up from the short time parking lot in T1, by driving from T2 to T1 with the rental car. It is definitely much more convenient than having the whole family & luggage transported to T2 on the shuttle.
Things to Keep in Mind While Returning the Rental Car at Nice Airport (NCE)
Rental returns at Nice Airport are very efficient and relatively fast.
The renters should check the car for any new damages against the recorded damage and make sure that if there are any new scratches or damages, get them recorded before dropping the car keys. If you feel like, click photographs for evidence. This might take a few rounds between the car park and the rental desk, and though annoying and time consuming, it is necessary.
Get the person who checks the car to sign the condition report on return and make sure the printout shows no extra charges. And do keep all the receipts for future references.
A Bit about the Captivating French City of Nice
Located at a minimal distance of 3.7 miles to the southwest of city center of Nice, Nice Airport is a prime hub for those traveling to Côte d'Azur. With scenic landscapes, captivating modern art, rare wildlife and ample food options, this beautiful downtown ranks high in the list of famous holiday destinations of France. To indulge to the fullest in its astonishing beauty, Nice Airport is the central connecting point which is why a rental car from the airport makes it easier to get around the town. Here are a few famous destinations in Nice; since they are close to the airport, the list will also be easy for the layover travelers to venture out and visit them in their rental cars.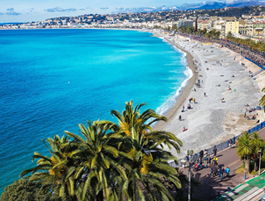 French Riviera
104 Km from NCE Airport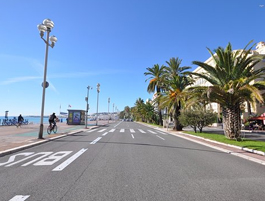 Promenade des Anglais
3.9 km from NCE Airport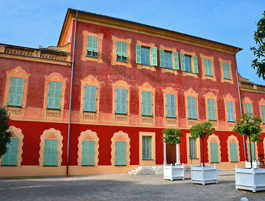 Musée Matisse
10.8 Km from NCE Airport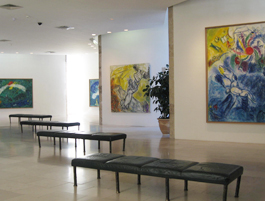 Musée Marc Chagall
8.8 Km from NCE Airport
Nice Airport – Overview
The airport provides its passengers with World class amenities. It has two passenger terminals – Terminal 1 and 2, one cargo terminal, and two parallel runways. It is the third busiest airport in France.
Nice Airport is used by the best-known airlines in the World, including Aer Lingus traveling to Dublin, Lufthansa to Frankfurt, Air Berlin serving Düsseldorf and parts of Stuttgart and Niki leading to Vienna amongst others.
| | |
| --- | --- |
| Address: | Nice Côte d'Azur International Airport, Rue Costes et Bellonte, 06206 Nice, France |
| IATA Code: | NCE |
Nice Airport Facilities
Business rooms

The airport takes into consideration the needs of the business travelers by providing rooms where they can conduct their business meetings. There are 5 Business rooms in T2 & 11 in T1.

Currency exchange

For the travelers who would like to get their money exchanged at the airport they can visit the Check-in hall in Terminal 1.

Free Wifi

Nice airport provides free Wifi service to its passengers; the service is offered without any time constraints.

Free Shuttle from Terminal 1 to 2

Passengers who want to reach terminal 2 from Terminal 1, they can board the free shuttle service from these stops: T1, Car Park P8 and P4; Frequency 5 to 10 minutes.
Shopping at Nice Airport
Sephora
Here you can find products from brands like Sephora, Tony Moly, Merci Handy, Jimmy Choo and Zadig & Voltaire.
Nail & Hair Spa by Eric Zemmour
Nail polishing, pedicure, manicure or hair styling; for ladies, this spa is a great way to spend a layover.
Saveurs De Provence
Here you can buy products from brands – Foie gras Rougie, Fromages frais, Alziari, & Vins fins.
Fragonard
At this store, you can buy perfumes, cosmetics, candles, and fragrant soaps.
Aelia Duty-Free
Wines, spirits or fragrances, at Aelia Duty-free you can buy almost anything!
Mademoiselle Vernis
Here, ladies can enjoy manicure, pedicure treatments, and other full range of services
Bally
This store offers the latest range of shoes and accessories, mainly for men.
Hermès
Here you can buy anything from jewelry, luxury goods, accessories and other Hermès brand
Max Mara
Located in Departure Lounge A, it is a good stop if you want to buy leather goods, shoes and accessories.
Riviera Chic
Here you can buy stuff from big-notch swim-wear brands like Pain de Sucre, Eres, Vilebrequin, and GAS
The Fashion Place
This store brings a big range of fashion products from jewelry to leather products.
Longchamp
It is a great place for women to buy bags and backpacks.
SoNice shop
The French Riviera legend continues until the boarding lounge!
Fragonard T2
The shop offers a good collection of candles, diffusers and interior perfumes.
SoNice - L'Occitane
SoNice offers fashion accessories, gourmet gifts and a good range of fragrances.
Saveurs de Provence
If you crave a good French gastronomic experience, it is definitely the place for you!
Dining – Restaurants & Bars at Nice Airport
La Tarte Tropézienne
Fast food or full-fledged meals, the restaurant offers all the sweet tastes of St Tropez.
Tarte Tropézienne Salle B
It is another option where travelers can taste the sweet treat from Saint Tropez.
La Plage
From a variety of coffees to breakfast menu, Chef Thierry Marx's La Plage offers a great menu.
Trib's
Trib's offers fresh and mouth-watering recipes for its customers.
Pan Garni
This one is Chef Thierry Marx concept, with a variety of unique delicacies on offer.
Joe & the Juice
If you looking forward to a cozy and modern dining experience, this place is just meant for you!
Lounges
The Library Lounge
Library Lounge offers Wifi, a buffet and all facilities that you might need to catch up on some work.
The Levity Lounge
Levity Lounges offers refreshments, Wifi and facilities that the users might need to do work.
The Infinity Lounge
Here travelers can use free Wifi and other work-related facilities plus refreshments.
The Canopy VIP Lounge
It offers facilities like bar, refreshments, Wifi and workstations for people who want to work.
Nice Airport Car Rental FAQs
I have an early flight; can I return my car rental at 5 in the morning?

Yes, you can, as most of the car rental companies have their key drop-off boxes outside their offices. Since most of the desks don't open till 6 in the morning, make sure that you have clicked pictures of the rental car as proof for future references. If you will be boarding your flight at Terminal1, you can take the shuttle to reach T1; the shuttle service starts at 4:30 am.

Where to return the rental car in Nice Airport?

The car rental center at Terminal 2 has a dedicated return zone; it is where you need to go to drop-off your car at the airport. It is located behind the car park P5.

How to reach Terminal 2 if I have to pick my rental after 10 pm?

You can board the free shuttle service from Terminal 1's Gate A0. It will take you to Terminal 2's Gate 3, from where car rental center is just a small walk. Use any exit and look for the sign - "Location de voitures /Car Rental Center", and finally cross car park P5 to reach the rental center.